Should Government Contracting be a part of your Business Model?
Government Contracting can be a key area of business growth. The Federal and State government, as well as Public Utilities are the largest purchasers of goods and services from Small Businesses. Consider these facts.
Federal: The Federal Government awarded a record-breaking $120B in prime contracts to small businesses in FY2018. More than $79B were awarded in subcontracts.
State: The State of California awarded over $10.5B to Small and Disabled Veteran Owned Firms in FY2018.
Utilities: The California Public Utilities Commission spent over $12B with small and minority businesses in 2018.
Each sector has rules that mandate contract awards to Small, Minority, Veteran and Women-Owned Businesses. However, you must be certified to help the agency meet its goal. Let's look at which certifications are recognized based on Industry Sector. Note: the State of CA is used as an example, but the requirement is similar in nature to most states and public utilities.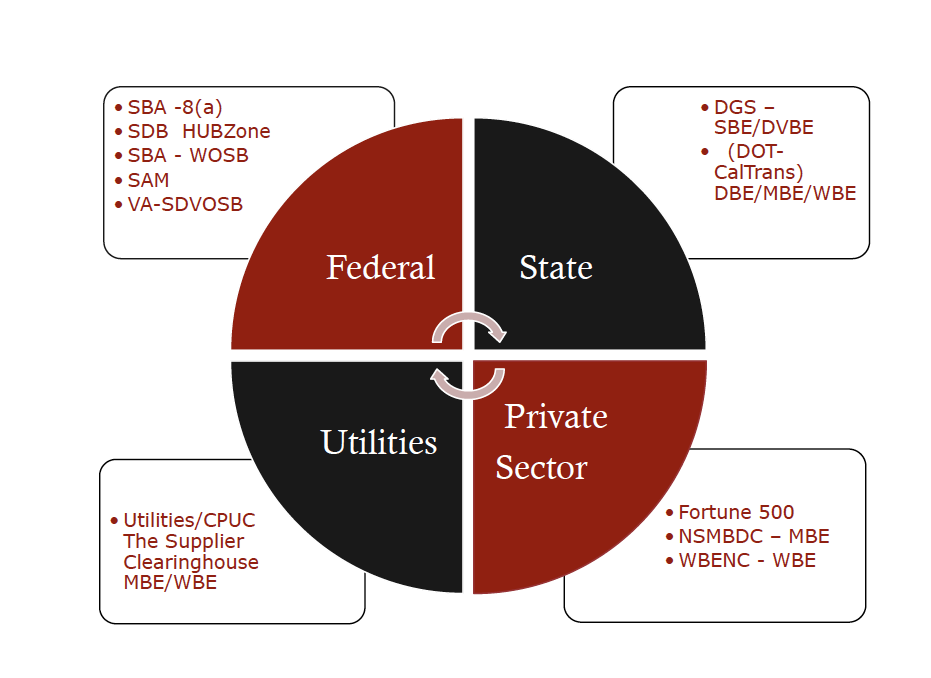 Small Business Certification
To be certified as a small business, your business must be small by the NAICS code size standard or whichever classification code system the agency recognizes. To be certified as a minority, woman, or veteran firm, you also must meet this requirement as well as own 51% or more of the company. Please note ownership and control must be substantial. Meaning the 51% owner must be involved in the company's day-to-day activities as well as have the final say in business decisions. Also, note most certifications have similar, but slightly different requirements.
Bottom line
The government (and large companies for that matter) are seeking to do business with certified firms. Build a business model in government contracting by:
Researching which agencies regularly buy what you sell
Get certified
Start building relationships so that you are prepared to bid when an opportunity arises.
We will delve further into how to conduct research, get certified, and position your company for success in the coming months. Stay tuned!